<-- back to home
Political speeches that changed the world
Cam Xanh
upcoming
Maison Chance
Ho Chi Minh City, Vietnam


image: Top 10 Political Quotes by Cam Xanh installed in the Jeonbok Museum of Art in South Korea, 2017


about the artwork

Political speeches that changed the world
upcoming
interactive installation of one writing desk and chair, silk cocoons, marker pen, political speeches on paper, notebook
dimensions variable
Cam Xanh

broken into their constituent syllables and handwritten onto silk cocoons, this collection of various speeches bare little resemblance to their original form. by metamorphosing spoken words into recorded text, Cam Xanh disseminates their content and rebirths them as sculpture. her use of the silkworm is integral to the piece. the brevity of the syllables mirrors the silkworms' short lifecycle, and the quotes, like the cocoons they are written on, are extracted from their original context and manipulated into something new. every cocoon appears then as a 'quote' from its maker. the viewer is forced to into close proximity with each cocoon to see its detail, echoing our position as observer to the historical and current affairs played out in governments and across countries. in breaking apart these speeches and attaching them to the anonymous silkworm, Cam Xanh disrupts the presumptive assurance of political rhetoric. her work encapsulates a moment in time for both silkworm and speaker alike and holds it up in a transparent display for all to scrutinise. this destabilises the insular voices of such speeches in a powerful act of accountability. Cam Xanh's work in this way gives voice to those that may have been victimised, and creates a theoretical equality and peace from words.

example speeches for work in progress:

I have a dream
Martin Luther King
August 28, 1963

The Few
Winston Churchill
August 20, 1940

Inaugural speech
Nelson Mandela
May 10, 1994

Tear down this wall
Ronald Reagan
June 12, 1987

Hitler declares war on the US
Adolf Hitler
December 11, 1941

We are a country awakened to danger
George W. Bush
September 20, 2001

Sermon on the Mount
Jesus
c. 4 B.C. – c. 30-33 A.D.

Dandi March Speech
Mahatma Gandhi
March 11, 1930

Socrates' Apology
Socrates
c. 469-399 B.C.

etc. etc.

instructions:

each participant can come in the room one at a time, they first reads the instructions carefully, then choos a paragraph, which can be as long or short as they want, then writes down on the notebook their name, the time and date which they participate, then writes the first few words and last few words from the paragraph that they choose with the number of the page where the paragraph is. then they use the marker to write each word from the chosen paragraph on the silk cocoons which they find under the desk. after finishing writing on the cocoons, the participant can put all written ones in the plexiglass box mounted on the wall. then they can leave.


about the location

Maison Chance is a charitable association based in Ho Chi Minh City (Saigon), Vietnam. it is a springboard for orphans, street children, disadvantaged people and the physically handicapped in Vietnam. the mix of able-bodied and handicapped people, of adults and children living together in a family setting is a unique characteristic of Maison Chance. it provides housing, health care, education and vocational training, and a place where the under-privileged children and the disabled can study and work, as well as offering them the means to facilitate their rehabilitation and their reinsertion into social life.

location: Maison Chance, 38D Đường số 1, Bình Hưng Hoà A, Bình Tân, HCMC, Vietnam


about the artist

Cam Xanh is the pseudonym of conceptual artist Tran Thanh Ha (b.1977, Vietnam). Translated as Green Orange from Vietnamese, it is the first of many playful departures from the expected that characterise her work. Her physical works are often based on texts and poetry, or developed from previous performances by the artist, and branch across multiple mediums including installation, sculpture, painting and video, often with elements only activated by audience participation. Her work can be found in the collection of the Singapore Art Museum (SAM), and she was a speaker for the ASIA YOUNG 36 exhibition at the Jeonbuk Museum of Art in Seoul, Korea in 2016. She founded independent art space MoT+++ in 2015 in Ho Chi Minh City, Vietnam, which she continues to collaboratively run with a small team and other members of the MoT+++ artist collective. In 2018 she co-founded the Nguyen Art Foundation and A. Farm, an international art residency.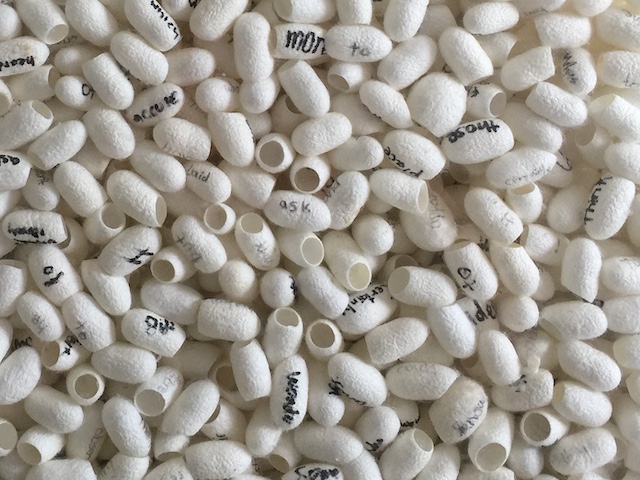 images: Socrates' Apology by Cam Xanh installed in the Renaissance International School Saigon, 2018




<-- back to home

motplus.xyz
/motplusplusplus
@motplusplusplus
#1museumbyanyothername

© MoT+++ 2120